EXCELerate Conference May 3-5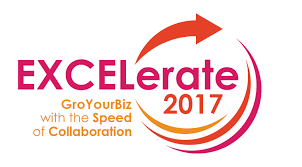 Join us at this year's EXCELerate conference for a chance to network and establish valuable connections.
For three full days, come be a part of the amazing power and strength that comes from a room full of women collaborating!
EARLY BIRD SAVINGS ENDS MARCH 30th
Be sure to stop by one of our booths—Malary's, TAB Bras, FIRMA Energywear—for the latest Fashion Collections and Health Product Lines.
EXCELerate 2017 will stay on track to foster and support the economic empowerment of women by enhancing business opportunities among companies across Canada, the USA and Internationally through our community of alliances.
The conference will include:
• Round Table Discussions
• Procurement Opportunities
• Plenary Sessions
• Meet the Experts
• Gala Reception
• Networking
• Pre & Post Tours

Where:
Westin Bayshore (1601 Bayshore Drive)
Vancouver, BC
When:
May 3rd – 5th
EARLY BIRD SAVINGS ENDS MARCH 30th

For More Information contact:
Barbara Mowat, President & Founder, GroYourBiz Ltd.
T: 604.534.5007
E-mail: Barbara.Mowat@GroYourBiz.com
Posted in: Upcoming Events
---